Is Adam Silver Actually In Favor Of Legal Sports Betting?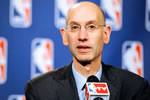 NBA Commissioner Adam Silver famously broke ranks and expressed his desire for legalized gambling in the form of regulated sports betting in the US in 2014. He opened the floodgates to an issue that has been plaguing states since 1992. But if he is so open to the idea of regulating the industry, why is the NBA still one of the main plaintiffs against New Jersey, who has been fighting for legalized sports betting for decades?
When New Jersey passed legislation for legalized sports gambling in its casinos and racetracks, the NCAA and professional sports commissioners immediately sent cease and desist letters. When that didn't work they took New Jersey to court. Amongst those filing suit against New Jersey? The NBA.
You would think that with such a progressive commissioner that the NBA wouldn't be up there with the NFL, a league that has been against sports betting from the beginning and hasn't changed its official position at all. Even now, as New Jersey petitions for a chance in front of the Supreme Court, the NBA has not withdrawn from their suit against the state. Does this mean that Silver is all talk and no action?
Don't worry – Silver isn't changing his views on sports betting regulations. He still believes the leagues would be better served by having regulated and taxed sports betting than if it stayed in the black market where it's not doing anyone any good. Silver wants sports betting to be regulated on a federal level, though, not a state level, which is why the NBA is still against New Jersey in this regard.
How Did Adam Silver Become A Proponent For Legalized Sports Betting?
For years, the commissioners of professional sports in America were wholly united in their fight against legal sports betting. But in recent years, that's changed. That change was brought about in large part by Adam Silver almost immediately after he took over as Commissioner of the NBA.
The NBA had one of the worst sports betting scandals in American History in 2007 after it came to light that referee Tim Donaghy was wagering on games that he officiated. Many in the professional sports community were shocked by this revelation, especially then-commissioner David Stern. "I can tell you that this is the most serious and worst situation that I have ever experienced either as a fan of the NBA, a lawyer for the NBA or a commissioner of the NBA." Many believed that this scandal just further proved the point that sports betting was an activity that should remain banned.
But that's not how Adam Silver saw it. Silver was working for the Association overseas at the time of the incident, where sports betting is already legalized and regulated. Having the scandal happen while he was in a community that didn't shy away from gambling but rather embraced it helped him figure out exactly where he stood on the issue. When asked, Silver says that the scandal actually shows "how important it is to have a way of monitoring irregular activity in our game. None of the systems we had in place captured any betting by Donaghy."
How Do The Other Leagues Feel About It?
Spokespeople for leagues like the NFL and NHL state that legal sports betting will irreparably damage the "integrity" of the game. Some are afraid that it will ruin the family friendly vibe that goes along with a day at the ball field or arena. They feel something like the 1919 World Series or someone like Tim Donaghy or Pete Rose prove their point. But Silver feels differently. "The best way for the league to monitor our integrity is for that betting action to move toward legal betting organizations, where it can be tracked. That's the pragmatic approach."
So, Silver is still completely for legalized and regulated sports betting in the US. But he doesn't want that to get confused with him being for gambling. ""One of my concerns is that I will be portrayed as pro sports betting," Silver admits. "But I view myself more as pro-transparency…someone who's a realist in the business." Silver's honesty has prompted other commissioners over the past couple of years to change their views. While MLB commissioner has dipped his toes in the water by stating that the ban needs to be reexamined, MLS Commissioner Don Garber jumped right in and said "It's time to bring it out of the dark ages. We're doing what we can to figure out how to manage that effectively." Only time will tell if other Commissioners will join the chorus.
Sports Betting Sites Accepting USA Players For Gambling