Poker Players Alliance & The Legalization Of Online Poker
Legal Gambling > The Poker Players Alliance's Role On Legalizing Online Poker
The legalization of online gambling is not something that can be accomplished without a helping hand. A grass roots organization has been established in order to help push toward online gambling, and this is the Poker Players Alliance. The PPA, as they are named for short, is the leading group that is out there struggling for the legalization of online poker. They are working to change the laws pertaining to online gambling, beginning with overturning the Unlawful Internet Gambling Enforcement Act and ending with a framework of regulations governing and protecting online gamblers, particularly online poker players.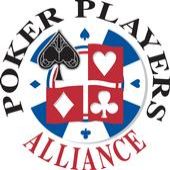 As a nonprofit interest group, the PPA is not out there to make any money - instead, they have the sole goal protecting poker players. Thus far they have proven to be limitedly successful, though this is hardly their fault. They have backed Barney Frank in his quest toward legalization online gambling, and they have also proven to attract quite a few major poker players. Howard Lederer, Chris Ferguson, and Annie Duke have all been very active in fighting for legal online poker.
The Poker Players Alliance accepts anyone into their midst. You do have to pay dues in order to join, but this money all goes toward lobbying for the legalization of online poker. They require you to pay $20 to join, which is not tax-deductible due to the amount of lobbying they do, but they do have a few member benefits that will make this worth the money. You will first receive access to the PPA's litigation network, a PPA chip card protector, and discounts on PPA Gear. You can also receive $300 off a WSOP Academy Training Package and $50 off card player cruisers.
While the tangible benefits of joining the PPA are fairly slim, the truth of the matter is that we cannot win this fight alone. Organization is key to overcoming laws, and the PPA is essentially the focal point of this organization. Since the cost to join is fairly low, we can tell you that it is definitely worth what is cheaper than a buy-in into nearly any tournament. The Poker Players Alliance is one of the best shots we have at regulating online gambling in the United States, and is definitely worth considering. Know that your money will be well spent should you decide to contribute.
Reliable Online Poker Sites For Players From The United States

| Legal USA Poker Rooms | Max Bonuses | Legal Where? | Visit |
| --- | --- | --- | --- |
| Bovada Poker | $1,000 - 100% | 48 States - No Washington or Maryland Players | Visit |